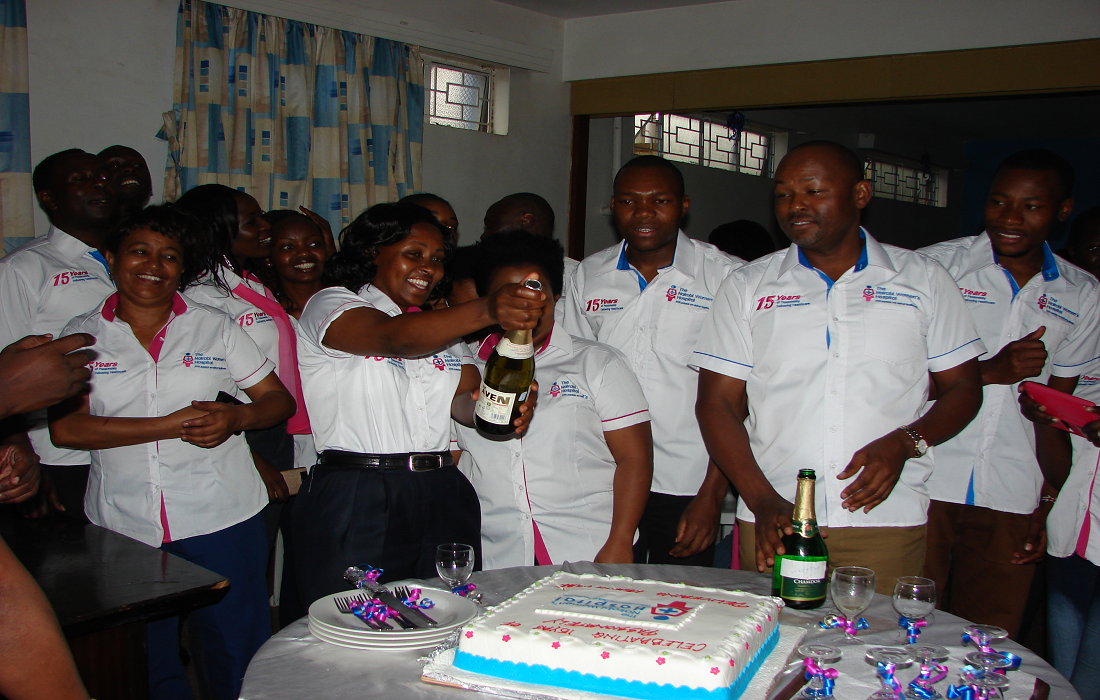 The Group CEO of the Nairobi Women's Hospital Group leads members of staff in marking the 15th Year anniversary.
Launched on 5th March 2001, the Gender Violence Recovery Centre has continued to support survivors of gender based violence in Kenya. Providing free medical and psycho-social assistance to over 32,000 survivors hasn't been a walk in the park, but we have done it!  We have seen the GVRC grow into a leading centre of excellence in prevention and management of gender based violence, liasing closely with the Government of Kenya, private and public stakeholders. Staying true to our vision of "A society free from Gender Based Violence" we continue to lobby and advocate for gender equality and upholding of basic human rights.
Here is what the Group CEO, Dr. Sam Thenya had to say about the day as he addressed the GVRC/NWH staff …
"15 years ago, we opened our doors for the first time in our Hurlingham Unit with a bold vision "We are trusted with the Health Care of our women in Africa". Looking at each one of you today, am overwhelmed to note that you have all passionately bought into and believed in this vision. I look back at the great history we have created together, and it elicits in me a very high expectation that we shall build a great future together, as we all live up to this vision and passionately deliver healthcare to our women in Africa.
Whereas in the 15 years we have had a handful of very challenging moments, these are far outweighed by our successes. Averagely, over 365 patients trust us with their health daily at the outpatient facilities across our branches, with averagely an extra 184 being nursed in our wards. We have a dedicated team of doctors who have been very instrumental in our growth and achievements. We are also grateful to our patients' relatives and other key stakeholders including insurance companies and direct corporates who have trusted us to provide healthcare to their loved ones.
GVRC, the corporate social responsibility arm of Nairobi Women's Hospital, exists for "A Society Free From Gender Based Violence"

Mutually, our shared purpose remains "We care for and protect the health of our women in Africa". The numbers of GBV survivors reached to date are over 32, 000; with 3247 of these reached in 2015. Our advocacy initiatives as a preventive measure in our last financial year reached a total population of 6395. The target in the coming financial year is a total population reach of 10,000 targeting police, health, schools, and civil society organizations on sensitization, lobbying and capacity building. We are also engaging with corporates through the "become one in a million project".
According to available data, Kenya is faced with an acute shortage of health care workers, with universities and training facilities only producing 40% of the needed health workforce. With this gap, we recognized a need to train competent health care workers and the NWH College was founded in 2011 with the vision "We are the trusted leader of healthcare education in Africa". We currently have a total student population of 110. Last year, we presented 17 of our pioneer nursing class for the Nursing Council exams. We had the highest pass rate amongst all the colleges that presented candidates. Out of the 17, 13 of them are already employed in our NWH hospitals and others. We look forward to a full class of 30 this month. We recently attained Technical and Vocational Educational and Training Authority (TVETA) registration. This opens up new horizons and opportunities for us to be innovative in our range of training programmes. With this we intend to offer specialised nursing courses as well as life saving short courses.
We have covered a lot together, and all these and many other milestones would not have been possible without you.
Back then in 2001, we started with a single branch with 10 employees. 15 years later, we have grown to 5 hospital branches, NWH College and GVRC with 453 full time staff as at end of February 2016. Every month, we have over 200 part time staff working across our hospitals, and 10 volunteers at GVRC.
Today we celebrate a number of those employees who have remained loyal to this vision. By the end of 2016, 5 of our dedicated staff will have attained 15 years of passionately delivering health care. An additional 14 will have attained 10 years, with an extra 79 who will have attained 5 years. We celebrate each one of these, with a special mention of Elisha Mulamula Lichoodi, our longest serving staff in the company, who turns 15 years this March.
We not only celebrate these 97 staff; we are indeed grateful to each one of you and recognize you as a very special person, for having contributed your time, energy and resources to enable us achieve so many successes. We appreciate your families that have stood with you in this fulfilling journey; and we are hopeful that many of you will stay on, find fulfilling careers at NWH, grow with us and create a great future together.
We also remain extremely grateful to God, without whose help and grace, we would not be celebrating the milestones we celebrate today; neither would we have any hope for the future.
As we look back today and celebrate, we think much more about our future because what matters most is not the history we have written, but the great future we need to create together.
In the coming financial year, we plan to refurbish a number of our facilities appropriately and create 376 in patient bed capacity across our 5 hospitals.
There is growing demand for quality and affordable healthcare, and that is why we also plan to get COHSASA accreditation, a journey I am sure most of you are aware of, that we have already began.
These are just some of the several initiatives in the pipeline.
I hope that you will start visualizing how you individually fit within the bigger picture. At the start of the current financial year, we set out an ambitious budget that looked impossible to achieve. Amazingly, we are on course to hit our targets, come the end of this financial year. Thank you for believing in yourselves and having delivered on the promise.
Together with the entire leadership &management team, and with the participation of all our supervisors, we have set yet another ambitious budget for the coming financial year, details of which we will be sharing with you in the coming days, as we discuss our individual balanced score cards. We shall focus on developing the drivers that will enable us achieve this budget at group, unit, departmental and individual levels. We have no doubt whatsoever that we shall
attain, even surpass our targets because of the great dedication of you, our very special employees.
Once again, thank you very much, our dear employees. God bless you, God bless your families and the work of your hands."
Dr. Sam Thenya Founder and GCEO
The Nairobi Women's Hospital Group